January 1, 2005
Michigan 37 - Texas 38
We had also gone out to the Rose Bowl the year before, this time we decided to stay in Las Vegas and drive in and out of Pasadena for the game. New Years Eve in Vegas is quite a party, when you add that 2005 marked the city's centennial, it made it even bigger.
The entire strip was full of people watching the fireworks show off of all the major casinos. I've never been so overwhelmed by a crowd. When the show ended - everyone was just trying to get back to their casino - so people packed together wanting to go in both directions means no one moves. I could see over the top of the throng of people that if we could just get to the middle of Las Vegas Blvd, the crowd thinned out enough that people were moving, but we were essentially pinned to the wall of the Bellagio Lake. I truly thought someone was going to get crushed right there on the strip. It must have taken us an hour to get to a spot where we could move freely. All that time left us very little time to sleep before driving into LA in the early morning.
We made the long drive in and got a decent parking spot near what I assumed would be an exit, more on that later. Melissa took a nap and I checked out the ESPN Gameday set until we were ready to go in to the Bowl at the Arroyo Seco.
Oh the game was memorable too.
You know that probably not quite as true as we think it is line that Michigan has always had trouble with mobile quarterbacks? If you're in that camp this game is likely exhibit A in your argument. Michigan had no answer for Vince Young, and yet they had opportunities to win this game.
Freshman Chad Henne threw 4 TD passes, 3 to Braylon Edwards and 1 to Steve Breaston. If not for Young's heroics Henne or Breaston probably would have been the game MVP. Every time Texas scored (well almost) they had to to kick it back to Michigan and Breaston seemed to be bringing the kicks back into Texas's side of the field.
The score went back and forth most of the way:
Texas 7-0 on a Young TD run
Tied at 7 Henne to Edwards
Texas 14-7 Young TD pass
Late in the half Michigan tied it on another Henne to Edwards pass
Young started where he left off with a 60 yard TD run to make it 21-14, Texas
Michigan answered with 17 straight points, 2 Henne TD passes and a Rivas field goal making it M 31-Texas 21 going to the 4th quarter.
That last field goal was really a harbinger - Michigan started "settling for field goals", Texas - or really Vince Young - kept getting touchdowns.
The first trade of scores left it M 34 - Texas 28. The next Young TD run (his 4th) made it 35-34 Texas. Michigan got another great Breaston return and mounted another scoring drive. On third and shortish Henne's pass for Edwards was high forcing another field goal attempt. Rivas hit the field goal and M went back up 37-35 with about 3 minutes left. WAY TOO MUCH TIME.
Young moved Texas for their winning kick. Dusty Magnum's 37 yarder as time expired was the final score. But even that had drama,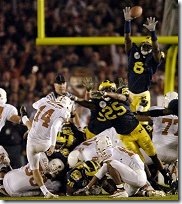 Ernest Shazor actually partially deflected the kick that then went right between the arms of Prescott Burgess. (photos from mgoblog)
We slowly made our way back to the car and found that that exit I'd hoped for was still closed. There were two posts with chains blocking it. After waiting in non-moving traffic for about 10 minutes, I got out of the car and lifted the posts out of the holes, drove over the chains and got us on the road. Driving back to Vegas after 2+ hours sleep a long drive in a long emotional game, was a challenge. We were running on:
We somehow made it back to New York New York and eventually I cashed in my winning bet ($20 on Michigan to cover the spread - yahoo...) For many reasons January 1 2005 is one of the longest days of my life.